2nd PHILIPPINE NATIONAL HALAL CONFERENCE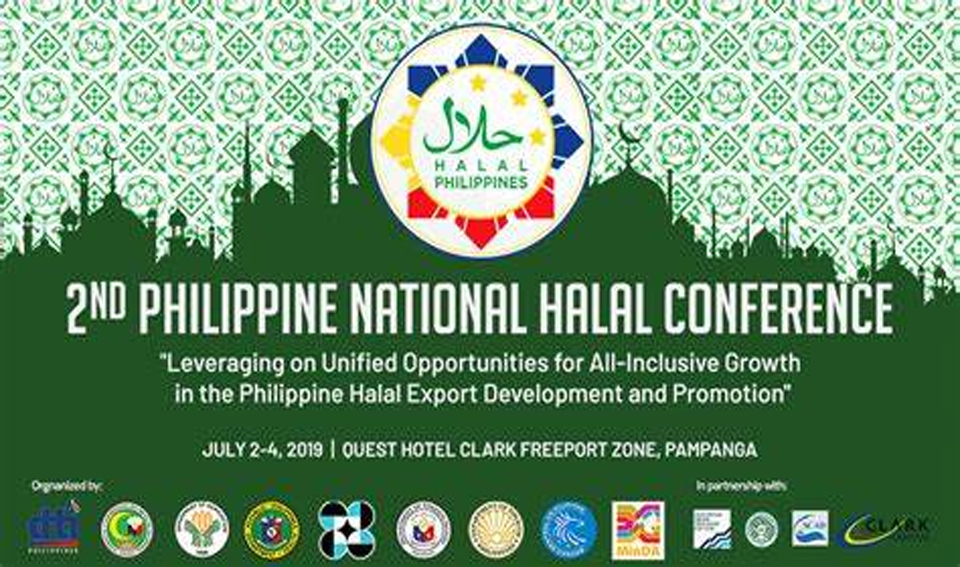 FOLLOWING the success of the first Philippine National Halal Conference last year held in Davao, the Philippine Halal Export Development and Promotion Board-member agencies chaired by the Department of Trade and Industry (DTI), will once again spearhead the conduct of the second Philippine National Halal Conference, with the theme "Leveraging on United Opportunities for All-inclusive Growth in the Philippine Halal Export Development and Promotion," from July 2 to 4, 2019, in Clark Freeport Zone, Pampanga.
The conference will feature several components such as the Assembly of the Muslim Scholars in the Philippines for the religious sector to have a common approach in terms of the new halal policies of the government. Another component is the cascading of the Philippine Halal programs through the Negosyo Centers of the DTI and other regional offices of the Halal Export Board member-agencies. Another component of the conference is the conduct of the second Philippine-Brunei Joint Committee Meeting. This is pursuant to the memorandum of understanding on halal cooperation signed by the two countries in 2017.
The conference will also feature an exhibition of companies with halal-certified products and business-to-business meetings of the halal suppliers, manufacturers, traders and certification bodies. The conference proper, which will gather local and international major stakeholders in the global halal industry, will feature various topics related to market access, market opportunities, emerging sectors in the halal industry, as well as the halal-related services including Islamic finance and tourism, with international speakers from Singapore, the United States, Malaysia, Thailand, Indonesia and Pakistan.
This conference is also part of the government's efforts to prepare Central Luzon as a Muslim-friendly tourism destination, especially for the upcoming 30th Southeast Asia Games this year which will be hosted by the region. The SEA Games is expected to welcome a large volume of Muslim athletes, delegates and visitors who would be looking for Halal food and related services.
The conference is held in collaboration with the Philippine Trade Training Center, De La Salle College of Saint Benilde, Subic – Clark Alliance for Development and Clark Development Corp. with financial support from Bangko Sentral ng Pilipinas, Department of Science and Technology, Mindanao Development Authority and the Department of Agriculture.
By Raison D. Arobinto / Senior Trade and Industry Dev't Specialist, Halal Section, DTI-EMB