KOREAN HALAL INSTITUTE EXPLORES COOPERATION WITH INDONESIAN HALAL INSTITUTE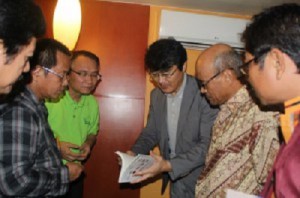 Jakarta, 1 Shafar 1436/24 November 2014 (MINA) – The Korea Institute of Halal Industry (KIHI),  Republic of Korea held talks in Jakarta to explore the possibility of cooperation with one of the Indonesian halal certification bodies in order to develop halal products for global market.
James Noh, General Director of the Korea Institute of Halal Industry (KIHI), said, there are about 135,000 Muslims in South Korea and about 1.8 billion Muslims spread all over the world. It would be a good prospect in the future so that Korean manufacturers were competing to get halal certification.
"Products that need halal certification process in Korean includes food, cosmetics, health supplements, medicine, etc, "said James Noah during a meeting with Chairman of Indonesian Halal Products Fondation (YPHI), Muhammad Yanis Musdja; the Deputy Chief Editor II of Mi'raj Islamic News Agency (MINA) Syarif Hidayat and one of the YPHI administrators in Jakarta, Sunday afternoon, Nov. 23.
Strict certification process was a major obstacle for Korean companies to seek business opportunities in the Muslim world that includes countries in the Middle East and Southeast Asia including Indonesia, the largest Muslim population in the world.
Meanwhile, Kim Jin Woo, Director of International Business Affairs of KIHI, who accompanied James Noh in the meeting, said the lack of halal laboratory in South Korea became an obstacle for Korean companies to develop products that met halal and thayyib (good) standards.
"We have tried to improve understanding of Halal awareness especially among companies which are interested in producing, packaging and marketing of halal products. Entrepreneurs in Korea understand the potential market for halal products and they appreciate the Muslim world population and the Muslim culture," said Kim Jin Woo.
The meeting followed up development cooperation talks of global halal products. The talks included seminars, education and training for Korean auditors of halal products as well developing cooperation of industrial products that halalan thoyyiban (halal and good).
Halal is a quality label of consumer goods recognized by the Muslim world society and also the world as a whole including  non-Muslims and world standard organizations.
Halal product is eligible products according to Islamic Sharia. The products do not contain pork or ingredients derived of pigs. The product do not use alcohol or other illicit goods as ingredients.
The potential of the halal industry in the world market is approximately two billion US dollars with the number of Muslims in the world reach 1.8 billion people.
Mi'raj Islamic News Agency (MINA) which has had a partnership with YPHI is the International Islamic News Agency that broadcasts in three languages (Indonesian, Arabic, and English). The news agency also provides a special section of "Halal Products" on its website.
Indonesia Halal Products Foundation (YPHI) was established January 7, 2013. It was established by the Association of Indonesian Muslim intellectual (ICMI), representatives from several universities, researchers and observers to halal food, medicine, and cosmetics companies in Indonesia. YPHI is performing various activities for halalan thoyyiban (halal and good) products. It include education, information, production, trade and research and also development of products at national and international level. (L/P009/R05/P3)
Mi'raj Islamic News Agency (MINA)
Source : http://mirajnews.com/halal-products/korean-halal-institute-explores-cooperation-indonesian-halal-institute/